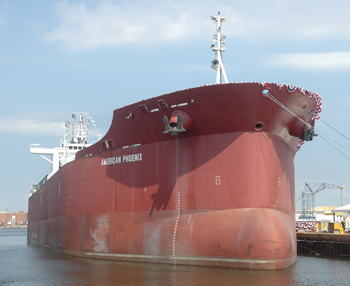 The M/T American Phoenix was christened June 28 at the BAE Systems Southeast Shipyards facility in Mobile, Ala. AMO represents all licensed officers aboard the Jones Act tanker.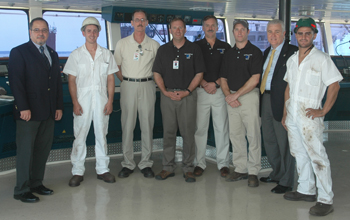 American Maritime Officers members working aboard the M/T American Phoenix in June included (left to right) Third Assistant Engineer Chris Anderson, Captain Kurt Yost, Captain Mike Kurr, Chief Engineer George Hutchins, Chief Engineer Jason Kast and Second A.E. Frank Altomare. With them are AMO National Secretary-Treasurer José Leonard and AMO National Executive Vice President Robert Kiefer.

The newly built Jones Act tanker M/T American Phoenix was christened June 28 at the BAE Systems Southeast Shipyards facility in Mobile, Ala., adding state-of-the-art tonnage to the domestic fleet and bringing new jobs to the membership of American Maritime Officers.

The American Phoenix will operate in the Jones Act trades in the Gulf of Mexico under charter to Koch Industries. Seabulk Tankers is providing technical services for Mid Ocean Tanker Company and AMO represents all licensed officers working aboard the ship.

"This ship embodies a remarkable combination of determination, ingenuity, strength and safety," said AMO National President Tom Bethel. "AMO is very proud to be part of this project. Our officers onboard, and our union as a whole, are excited by the achievement and the potential of the American Phoenix as she prepares to enter service."

The partially completed American Phoenix (Hull 103) was purchased in January 2011 in a Louisiana bankruptcy court auction by Mid Ocean Tanker Company, a partnership of Alterna Capital Partners and Mid-Ocean Marine. Hull 103 was to have been one of three shallow-draft product tankers built for AHL Shipping Co., previously known as American Heavy Lift Shipping, a non-AMO company. After purchase, construction of Hull 103 was completed at the BAE Systems shipyard in Mobile and the M/T American Phoenix has risen as an impressive new generation tanker for the Jones Act fleet.

"The M/T American Phoenix is a great addition to the American merchant marine and Seabulk Tankers is proud to be providing the technical services to operate this vessel for Mid Ocean Tanker Company," said Harvey Mott, vice president of fleet management for Seabulk Tankers.

Describing some of the key features of the American Phoenix in an article published by Maritime Professional, Robert Kunkel - president of Alternative Marine Technologies and technical advisor to Alterna Capital Partners during construction of the ship - wrote: "the American Phoenix is not your father's Jones Act product carrier. The design features take into account environmental protection with a Class Environmental Safety notation and system redundancies usually seen only in the Alaskan trades. Yet her trading markets were originally planned for the U.S. Gulf."

Chief Engineer George Hutchins, who has been onboard the American Phoenix since April, described the ship as "robust, modern and built to last."

Kunkel noted the IMO II Chemical/Product Carrier is the first American-built tanker to be constructed under the latest IACS (International Association of Classification Societies) Common Structural Rules. The ship is scheduled to undergo sea trials and make her maiden voyage in July, he said.

The ship's propulsion "is provided by three 5,600 KW MAK 12VM32C diesel engines with Siemens IDK4543 generators," Kunkel wrote. "The diesel-electric power driving two 4,500 KW VEM motors with twin shafts supported by Kobelco stern and strut bearings that are water lubricated and cooled. The propulsion system is fully redundant with only two generators required in operation to achieve a 14.5-knot operating speed - the third generator remains in standby."

At a length of 616 feet, the American Phoenix is 49,000 DWT. With a capacity of 339,000 barrels, the tanker can carry crude oil, chemicals and petroleum products.